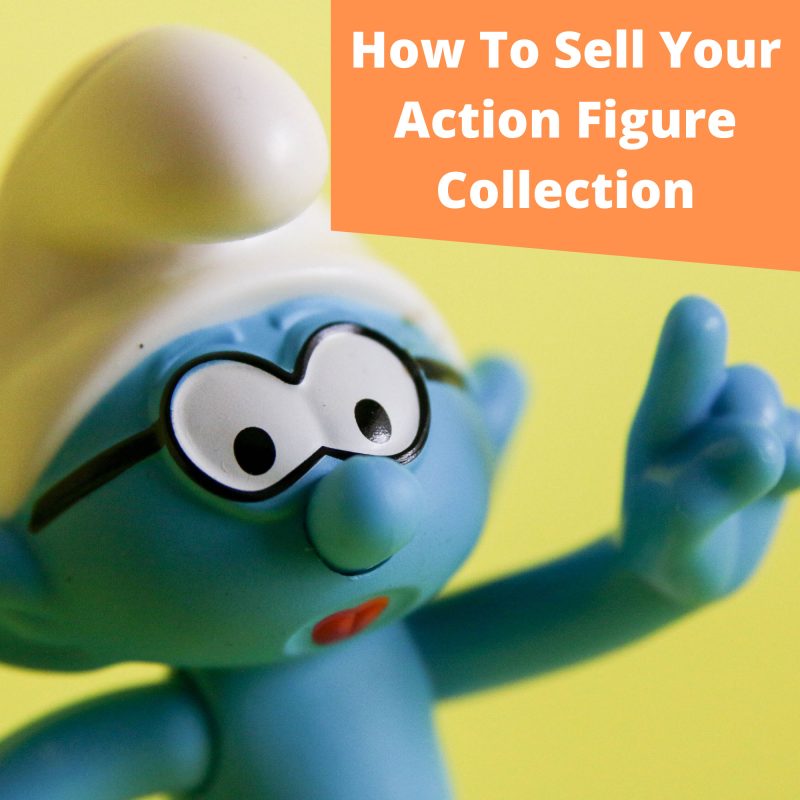 So you have decided to sell some or all of your collection. Now what? Do it yourself or sell/trade it to a company for some quick and easy cash. There are pros and cons to each.
This blog will help answer your questions about how to sell your collection yourself or what to expect when you ask a company/reseller to buy your collection from you.
Prep, prep & prep some more
Before you start listing or reaching out to resellers about selling your collectibles, it's important to do some research on their value first. That way, you'll know exactly what you've got and what to expect during the sales process.
It's important to recognize that not everything is a valuable collectible worth hundreds or even thousands of Euros. TikTok & YouTubers can make it appear that reselling is an easy get-rich-quick scheme, but they are not showing you all the fees, time, taxes & other hidden costs that are linked to each sale. Plus an item is only worth as much as the market is willing to pay.
Who buys collections?
Companies like ourselves. Small resellers who think they can make a profit on your items and private buyers who wish to start or complete a collection.
What each of us looks for when buying items are their re-saleability and collectibility. Most of that comes from their condition, their popularity, how many of each item was made and the price at which we can buy them.
Item condition is the major driving factor for any buyer or seller. Buyers searching for the missing piece from their collection or their Holy Gail want a complete figure, in as mint condition as possible, for a reasonable price.
Market Demand
Likes stocks and shares, the prices of pre-owned collectibles are driven by customer demand. eBay sold listings are a great indicator of what people are currently willing to pay.
The more frequency at which the item appears, the better. As this means the item is popular but it can also mean that the re-sale price is lower as there are a lot of them available to buy. Beware though, sale prices during the Christmas season as not a true indicator of ongoing market prices.
Example
Comic books are a prime example of this. Pre-1990, comics were printed in very low quantities. Getting your hands on the first appearance of Batman (Detective Comics #27, 1939) was really hard. A low print run, coupled with the fact a lot of copies were damaged or destroyed by their owners, created a demand among collectors for this issue.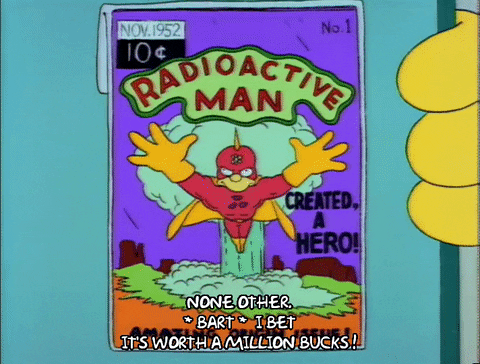 In the early '90s, there was a comic book boom. Publishers printed thousands if not millions of copies of the same book but with different variant covers or free gifts. Speculators snapped up these copies, hoping to sit on them and resell them later for a high price.
Collectors felt it was a bit of a money grab and refrained from buying multiple copies of the same issue. Retailers were then stuck with a chunk of unreturnable stock.  As their money was tied up in deadstock, a lot of comic book shops went bust.  Publishers, in turn, went bankrupt due to low sales and bad business decisions.
Speculators dumped their excess stock too, as their investment never reached the monies they were hoping for. Collectors were able to pick up the back issues of these comics at normal prices.
Collectors are much savvier nowadays and as a result, only key issues with low print runs are really the only comics that retain any resale value.
Researching the price of your collectibles
As we have previously mentioned the quickest and most reliable way to find out what your figure is worth is to use eBay sold listings.
Ignore the active listings for the most part. A lot of sellers will list with high prices and then reduce the price when the item does not sell.
You should create a list of the make, model and year of release for each of your pieces. For video games include the title and the console it's for. This will be super handy for keeping track of your research and also for supplying to resellers if you chose that route.
Try and match the sold price to the exact model and condition of your collectible. For example, a factory-sealed, mint-condition Marvel Legends Series 3 Unmasked Wolverine will have a completely different value that an out-of-the-box one.
Check out the images below, to see how you can get to these prices & how much they vary!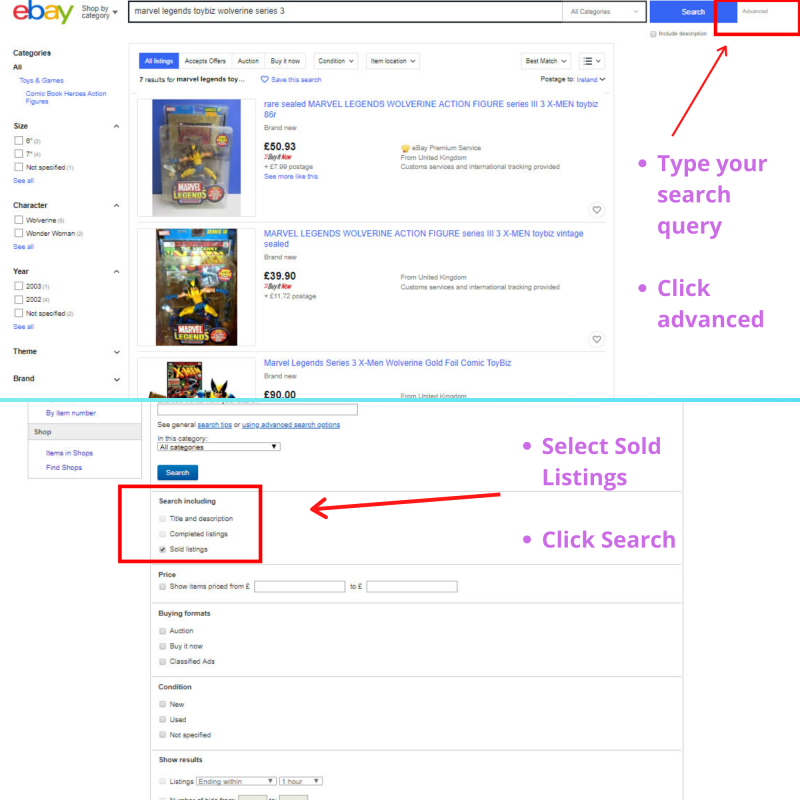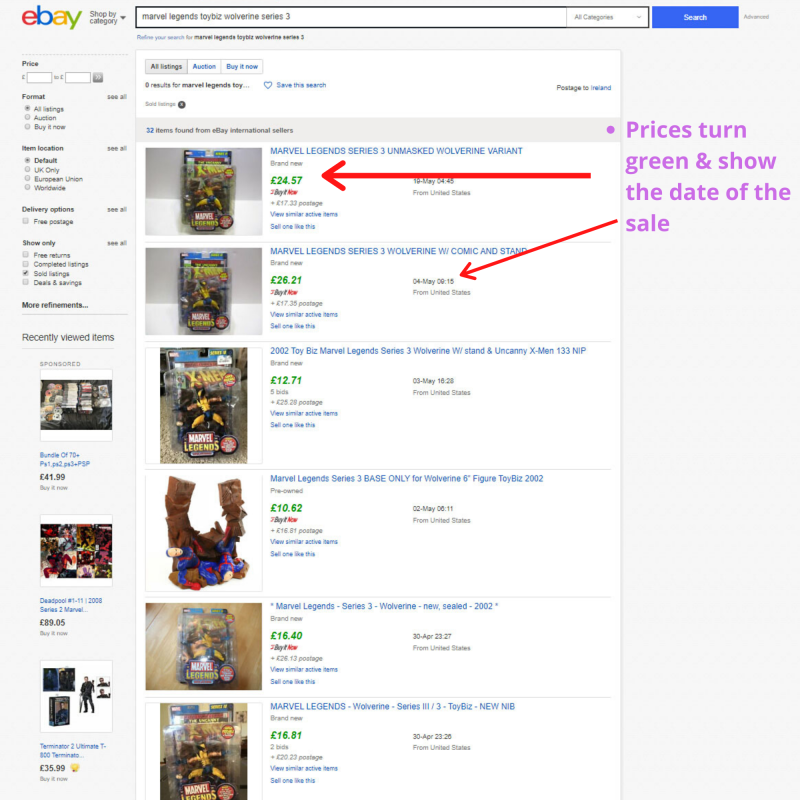 Selling the collection yourself vs using a reseller
Once you've researched your items and know how much they have the potential to sell for under the right market conditions. The next question is whether should you sell them yourself or ask a reseller to buy the bulk lot from you.  Here are the pros and cons of each way.
How to sell your collection yourself
Places such as Adverts.ie, eBay and even Facebook marketplace will help you sell your collection.
Pros
You will get the most money back for your collection/item
Market demand could vary meaning you could get a higher price for your item
You get a rush when the sale notification comes through
You have made space in your collection
Cons
Fees such as eBay fees, PayPal fees & packaging supplies will eat into your profit
Selling your collection piece by piece or as small bundles is time-consuming  
It may take months to sell all of your items
Risk of returns, negative feedback & refund requests due to descriptions or packages not being received or meeting buyers' expectations
Buyers ghosting you after you accept their offer
You'll be inundated with late-night Facebook marketplace places of "is this still available?"
Market demand could vary meaning it's harder to resell your item
Asking a reseller or a company to buy your collection
If you decide you do not want the hassle of dealing with fees, shipping and multiple buyers, you can always reach out to others who may be willing to buy your collection.
Pros
Fast sale
Money in your pocket
Space in your home is freed up quicker
Only dealing with 1 professional buyer instead of multiple private buyers
Avoid the risk of market demand falling & decreasing your ability to resell your item
Cons
Expect to receive 1/3 or less of the potential resale price
Which way is best for me?
You now know the pros and cons of selling your collection yourself versus using a reseller. It is now time to decide what matters most to you. Do you want to receive the most money possible for your collection? Or do you want a quick sale and space cleared up in your home?
Bear in mind that by asking a reseller to purchase your collection, you are asking them to do all the work. They are taking on the risks already mentioned and have day-to-day business overheads such as staffing, utilities, rates etc.  They also need to make a to make reasonable profit too.
This is the reason why you will only ever be offered about 1/3 or less of the possible resale price by resellers.  Such an offer can be quite jarring, however, if you have done your research on the current market prices & have decided to offload your collection this way, it should not come as too much of a surprise.
How to ask a reseller to buy your collection
You should always supply the reseller with images and a list of the figures or games you wish to part with. Don't forget to clean and repair your items too as this can significantly increase their value.
Supplying the reseller with a list of items will assist the reseller in giving you a faster answer in terms of the price they can offer you and if they are interested in buying your items.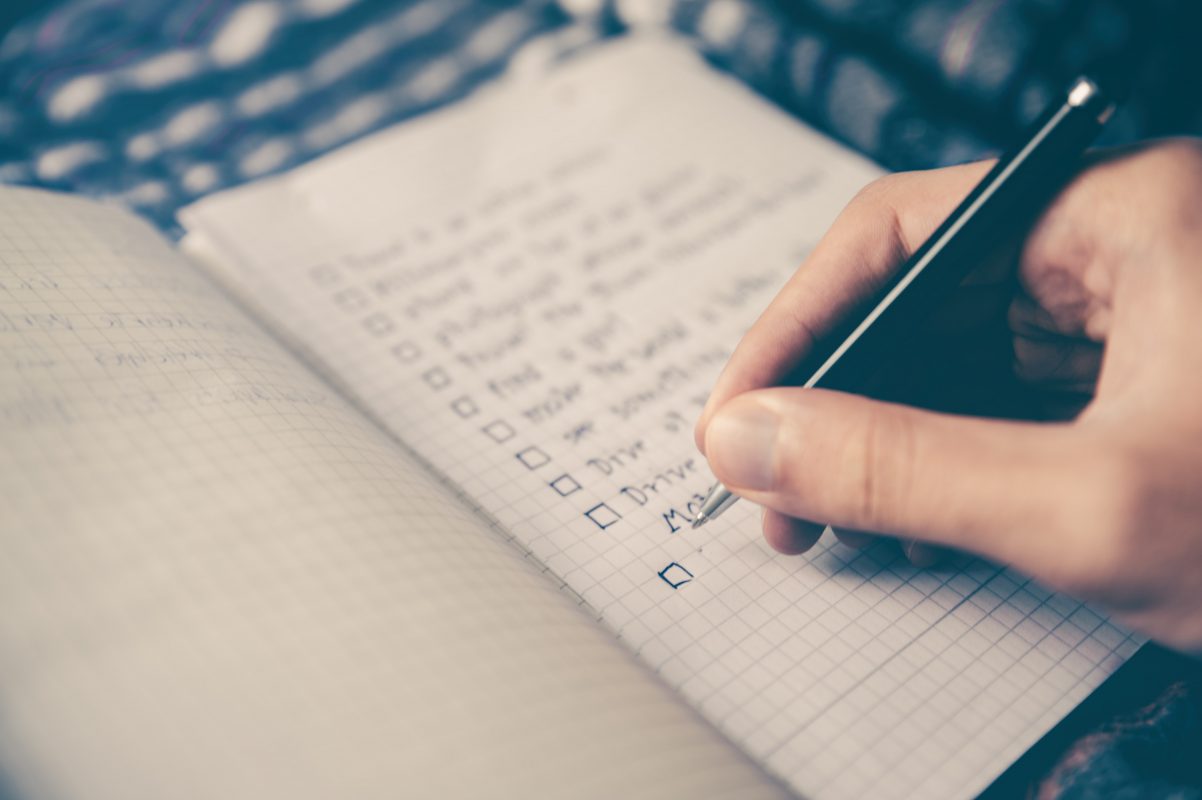 Do Uncanny Collectibles buy collections?
Yes, we have created a handy guide on our buying process & timeframes.
We recommend that you read this guide & follow the steps before contacting any company about trading in your collection.
If you would like to contact us about buying your collection, you can do so by WhatsApp, Instagram, Email or Facebook Messengeror by calling us on 0858272191.