Stack My Order – What is that?
Save on shipping by holding and combining your orders and pre-orders
Hold current in-stock items for up to 30 days
Make multiple pre-orders with similar arrival dates & stack them
Ship any combination of items and orders
Reduce your shipping costs by stacking your orders to qualify for free shipping
Only available to customers within the Republic of Ireland
We reserve the right to cancel a Stack My Order request at any time due to a breach in the usage of this or any other policies on our website. Should you breach the terms & conditions, all future orders will be cancelled & refunded less a €2.50 cancellation fee.
Hold Items For 30 Days
We can hold any in-stock items you order for a max of 30 days
The expiry date of the 30-day hold is 30 days from the date of the first Stack My Order request.
After this period, these items must be shipped to you, as we do not have the warehouse space to hold items indefinitely
To save on shipping costs, you can order more items to build towards qualifying for free shipping
We will email you after each order to confirm your items are on hold & also to advise when items must be shipped
You can message us at any time to tell us to ship your items. Shipping Fees will apply if your total order is under €50
In-stock Items
Mix & match any in-stock items across as many orders within 30 days to save on shipping.
Pre-Orders
Pre-orders have different arrival dates.
Due to ongoing international shipping delays, our pre-orders will only have guide arrival timeframes such as Quarter 1 2022. This date is amended to a more accurate arrival date (Inbound Arriving in 2 Weeks) when our supplier confirms they have the item in stock.
The Quarters are broken down into
Quarter 1 = January to March
Quarter 2 = April to June
Quarter 3 = July to September
Quarter 4 = October to December
Pre-orders from different release Quarters can not be stacked together.
When Do Shipping Fees Apply
We offer free shipping with the Republic of Ireland on all orders of €50 or more
Combine items to build your order to €50 or more & save on shipping fees
Any orders under €50, that have reached the 30-day hold limit, will receive a payment link on day 25 of the hold request for a shipping fee, this fee must be paid before day 30.
If you request we ship an order that is under €50, a shipping fee will apply
Exclusions
Laser-cut decorations & Abomination Props items are excluded from this offer
Mixed pre-orders with arrival dates which are months apart are excluded too
Orders That Reach The 30 Hold Limit
All in-stock items must ship on or before the 30-day limit is reached
The only exceptions are when a pre-order item is currently on its way to us & can be combined with an in-stock item
We will send you an email reminder of the 30-day limit
If your order exceeds €50, your items will be shipped to you automatically, with a tracking number
This email will contain a payment link for shipping costs if your order is below €50
If the shipping cost is not paid & your order exceeds the 30-day limit, we will cancel your order & refund your money, less a cancellation fee of €2.50 per outstanding stacked order.
Cancellation of Stack My Order
We reserve the right to cancel & prohibit any future Stack My Order requests & even paid-in-full orders where:
You do not pay the shipping fee for orders below €50 on time
You do not place another order within the 30-day hold period
Any breach of the terms & conditions of this or any other policies such as Payment Plans & Pre Orders on our website.
A cancellation fee of €2.50 will be deducted from your refund. This fee covers the administration & warehousing costs we have incurred due to your incomplete request.
How To Select This Option?
At the checkout, you will now see this extra shipping option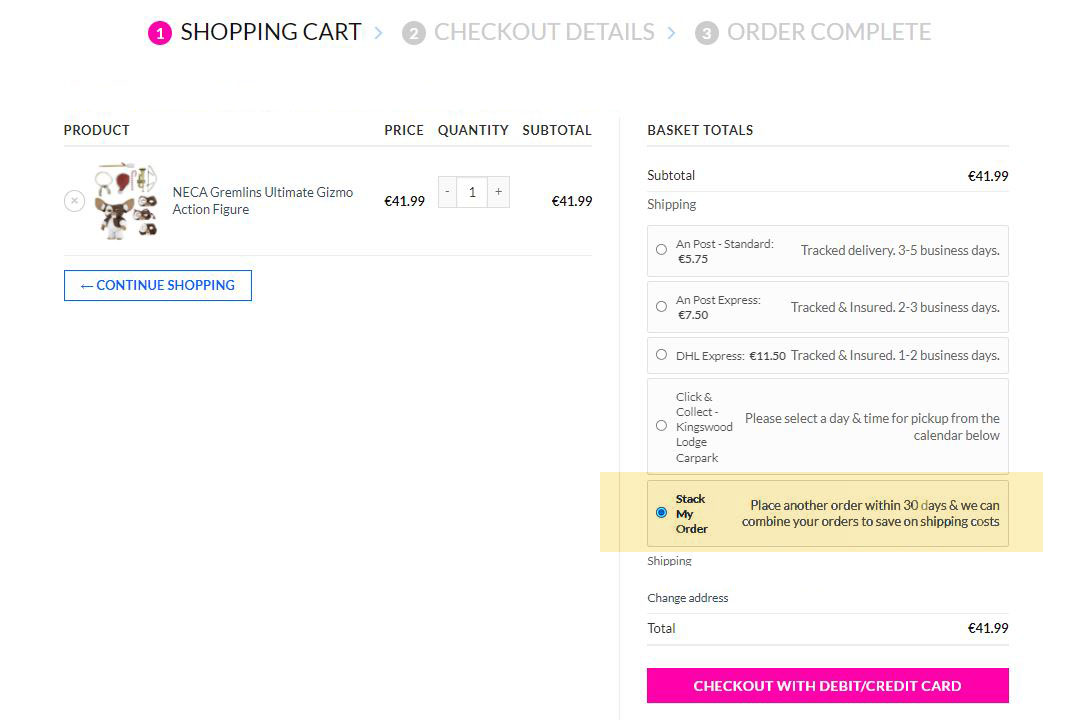 Simply select this option at the checkout & pay for your item, no shipping fees will be added
You will receive an email from us confirming your order is now on hold
Place as many orders as you want within 30 days of your first order & we will ship them all together
Stack or combine your orders to exceed €50 & receive free shipping
Any orders under €50 will incur our standard shipping fee
Examples
Buying In Stock Items On Different Orders
It's almost payday, we have 1 Gizmo left in stock. You also want to buy a Halloween Kills Myers. There's lots of Mike in stock, but buying both now, can't be done because the silly electricity bill is due! You only have the budget for 1 right now, but hate paying for shipping!
Solution: You can grab Gizmo now & select Stack My Order at the checkout. Mike can then be purchased & stacked with Gizmo when you place a separate order to qualify for free shipping within 30 days.
Pre Order Example
Stupid Flanders. He's created the pre-orders, but they only allow 1 pre-order per checkout. Homer don't want to pay shipping on items that are arriving at the same time. Stupid Flanders!
Solution: Place multiple orders for your pre-order items & select Stack My Order at the checkout. We will stack all your orders together to help you qualify for free shipping. See the info on pre-orders above to see which ones can be stacked with each other.
That'll teach Flanders good!
Pre Order & In Stock Item Example
The Tech Gods, only allow 1 pre-order per checkout. No mixing & matching is permitted under their rule. But the pre-order shows it's arriving in 2 weeks time & you want to grab the last in stock Gizmo now!
Solution: Place 2 orders. The first will contain your pre-order. The second will contain the last in stock Gizmo. You have beaten the Tech Gods by finding a workaround to qualify for free shipping!
Pre Orders Arriving At Different Times
Captain Blake is showing as arriving in Quarter 1 2022. Station Survival MacReady is showing as arriving in Quarter 4 2022.
Solution: Unfortunately we don't have a workaround on this one! Warehouse space is at a premium – especially in Dublin. Holding onto items so far apart is just not possible.
So if you submit a Stack My Order request with 2 items that are so far apart, we will have to send you a payment link to pay for shipping on both items.